2017 RRCBP GRADUATES
EMILY FARQUHAR, MLHD
Investigating a Public-Private partnership model of Physiotherapy service delivery in a rural setting
Emily Farquhar is the Physiotherapist in Charge at Wagga Wagga Base Hospital. She is passionate about improving health outcomes in rural Australia and thoroughly enjoyed participating in HETI's Rural Research Capacity Building Program. Away from work Emily enjoys time with family, exploring the outdoors, yoga and singing in her local women's barbershop group.
DILHAN FERNANDO, WNSWLHD
Monitoring the formal implementation of a cognitive assessment protocol, and analysis of cognitive outcomes of Electro-Convulsive Therapy (ECT) in a regional psychiatric hospital setting
Dilhan Fernando is a Career Medical Officer based at Bloomfield Hospital in Orange, NSW. Dilhan has explored best practice care for people with mental illness both in Australia and Sri Lanka. His passion for best practice has driven change at Bloomfield Hospital.
PAULINE SMITH, MNCLHD
Partnering to Provide Palliative Care: The lived experience of carers accessing after-hours palliative care support provided by a non-government organisation in partnership with a regional local health district
Pauline Smith is a community based Clinical Nurse Consultant in Palliative Care in the Hastings Macleay Clinical Network of the MNCLHD. Her role involves service development and provision of clinical leadership. She has a Masters in Palliative Care (Flinders University) and her primary focus is development of sustainable models of care that ensures patients and carers receive equitable access to quality, evidenced based palliative care in the place of their choice.
ALEXANDRA WADE, MNCLHD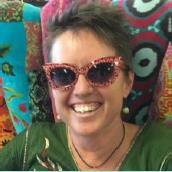 SCRIPT HCC - rates and patterns of screening for hepatocellular carcinoma in patients in the Hastings Macleay region
Alex is the CNC Hepatology at the Hastings Macleay Liver Clinic She is dedicated to embedding collaborative recall systems at a regional level, and national or state registries for people living with cirrhosis as a foundation for improving care for this vulnerable population. A follow-up study investigating barriers to screening in a rural and regional context is on Alex's wish list because even small increases in early detection of HCC have been shown to reduce mortality.